We take care for your vehicle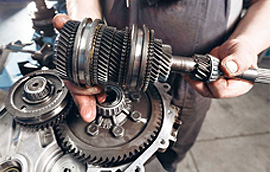 If the diagnostic shows a problem with the transmission, it may require a full rebuild to remove and replace the broken parts.
The mechanics of
Northern Auto & Transmission
can explain to you what happened and the plan to fix it with a guaranteed result based on our 40 years of experience! We also provide front, rear, ring and pinions differential repair services.
All transmissions require maintenance services, however how often this needs to be done is determined by a variety of factors including the make and model of the vehicle in addition to how often the vehicle is used. If you need a complete transmission rebuild look no further. We have the equipment and expertise to conduct a top-notch transmission rebuild for your vehicle.