Complete Tires & Brakes Services
At Northern Brake & Transmission we will take care of all your brake and suspension needs. From tire and wheel alignments, brakes & ABS systems, we are your full-service providers. We work with many up to date diagnostic equipment we have on site to keep up with the ever changing demands of new automobiles.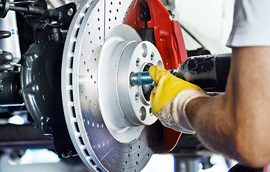 There are numerous types of brake pads, from very soft and aggressive to harder, more durable and less aggressive compounds. Most vehicle manufacturers recommend a specific kind of brake pad for their vehicle, but compounds can be changed according to personal tastes and driving styles. Visit us and we will guarantee a great brake service result.