About

Us
Best Auto Repair Shop in Long Island City, NY
Northern Brake and Transmission has been family-owned since 1970.When it comes time to find an automotive and body repair shop in Queens, conveniently located close to Manhattan and Brooklyn, you want someone who is going to provide you with the complete line of services that you require.
It is important that you have a service professional who is trained and knowledgeable about a number of different aspects of car repair.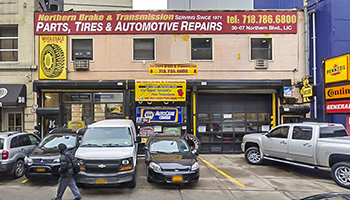 You don't want someone who doesn't know what they are doing to repair your vehicle. Our service professionals work hard to help provide you with the complete range of services to help accommodate your needs.
Auto repair in the Manhattan area has never been as easy and convenient as it is today. Not only are we going to provide you with a complete line of services, but we do it at a price that is affordable.
We understand that you need certain repairs done, which is why we do everything we can to make it affordable for you. From transmission repair to general inspections and maintenance, you can rest assured that we can handle your vehicle with the care and professionalism it deserves. Contact one of our service representatives to discuss what it is that you need completed. We serve the Manhattan area, including Queens, Brooklyn, New Jersey and the Bronx. Undeniable quality and customer service from professionals who have been in the business for over forty years.